Master The Art Of Brazilian Jiu-Jitsu With Our Gi And No-Gi Training
Take on a practical self-defense system today and push your body like never before. Our Brazilian Jiu-Jitsu classes at Evolution MMA Miami include both traditional Gi training and a modern No-Gi self-defense system.
Whether you've trained for years or you're just getting started, we've got a BJJ Class that's perfect for you!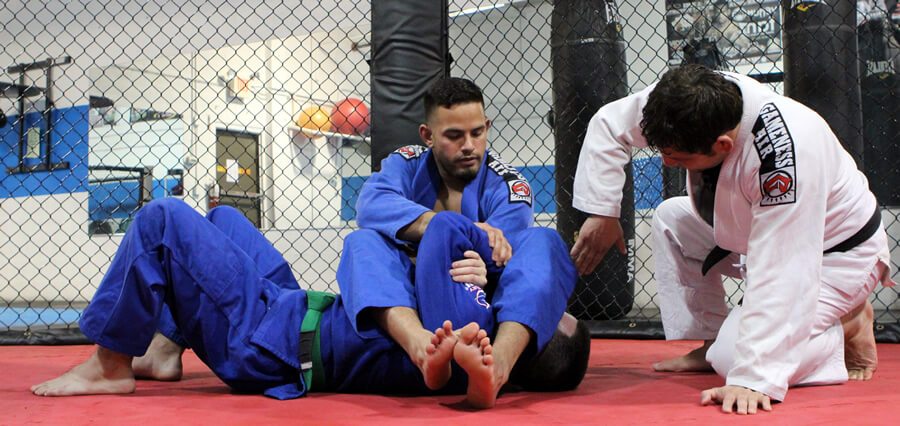 For Competition Or The Real World, Our BJJ Classes Have Something For Everyone!
Did you know that a majority of fights end up on the ground? Whether you're in the ring or caught in a real-world conflict, our BJJ Classes in Miami can equip you with the technical skills you need to overcome opponents of any size.
Brazilian Jiu-Jitsu focuses on technical aspects of self-defense like positioning and leverage, helping smaller fighters maintain control in a ground grappling scenario and come away unharmed.
Join us at Evolution MMA Miami and learn:
Takedowns and throws
Locks, pins, and holds
Submission strategies
Focus and concentration in high-stress situations
And if you're looking for a more customized approach, get started today with our private BJJ lessons!
PLUS BJJ Classes Give You Access To An Incredible Workout
Your group fitness classes might be great, but are they helping you build a practical strength with uses in the real world?
Brazilian Jiu-Jitsu combines elements of cardio exercises and total-body strength to help you see sustainable results in no time. When you join our BJJ Classes at Evolution MMA Miami, you'll take on heart-racing workouts, comprehensive skill work, and controlled sparring sessions.
In no time, you can enjoy:
Boosted strength and power
Total-body muscle tone
Improved cardiovascular health
Incredible self-confidence
Get More From Your Training With Our BJJ Classes In Miami!
Are you ready to train with a purpose? Then join us today at Evolution MMA Miami and take on the best Brazilian Jiu-Jitsu Classes in town. We're proud to serve the Kendall community with high-quality workouts and supportive coaching each and every day.
Fill out the short form on your screen today to learn more or get started!