Take On The Best MMA Training In Town Regardless Of Your Experience Level
At Evolution MMA Miami, we're making Mixed Martial Arts Training more accessible than ever before. Men and women of all ages and skill levels can join us today and take on a high-energy workout that burns fat and builds muscle while also equipping you with some of the most effective self-defense skills possible.
We're proud to serve Miami's Kendall community with high-quality classes and constant support. Get started today!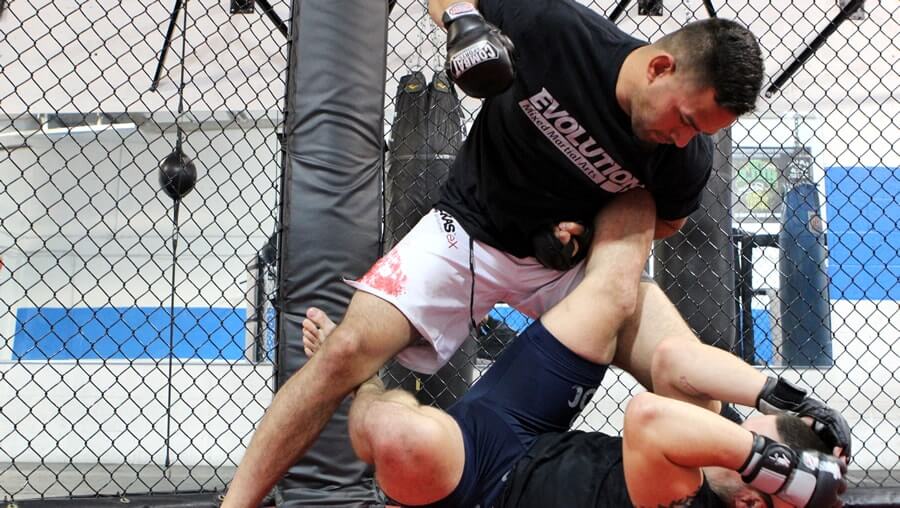 Why Is MMA Right For You?
Once thought of as just the violent fighting we saw on TV, MMA training has now been adopted around the world as a great total-body workout for everyday people who are looking to stay in shape.
Our MMA Classes in Miami teach a blend of Muay Thai Kickboxing, Brazilian Jiu-Jitsu, wrestling, and traditional Martial Arts techniques. We help you learn each skill one step at a time and keep you motivated week in and week out with classes that are always changing and workouts that are always FUN!
When you join us at Evolution MMA Miami, you can enjoy:
Improved striking and ground grappling skills
Boosted self-confidence
Increased energy levels
Preparation for any real-world threat
PLUS, Our MMA Classes Will Help You See Long-Lasting Results
Mixed Martial Arts training offers benefits that other programs can't because it's the perfect blend of strength and cardiovascular exercise. Each of our classes is scalable to a wide range of skill sets and abilities and our coaches are dedicated to helping you feel comfortable and confident from day one.
Make your fitness goals a reality today at Evolution MMA Miami. We can help you:
Burn fat and build lean muscle across your entire body
Enjoy healthy, sustainable weight loss
Boost your mobility and flexibility
Walk away feeling more accomplished than ever before
Don't Miss Out On The Best MMA Classes In Miami. Get Started Today!
When you join the team at Evolution MMA Miami, you'll enjoy an ego-free atmosphere where your goals are our priority. With us, there's no intimidation and no expectations. We're here to serve everyone in Kendall and beyond!
Fill out the short form on your screen now to learn more about our MMA Classes everything else we have to offer!